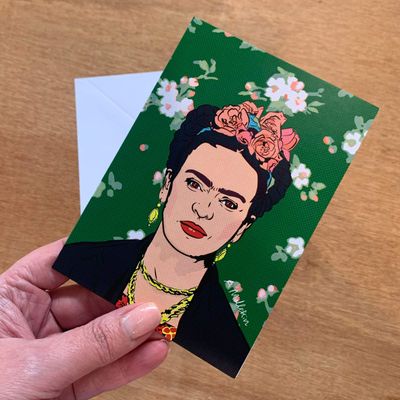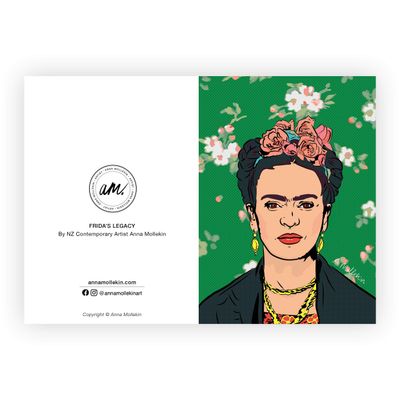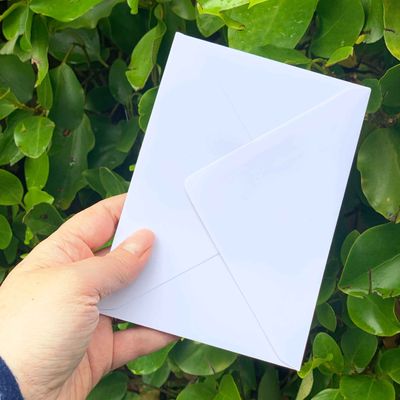 Frida Kahlo Greeting Cards - Frida's Legacy
Crowned Collection by Anna Mollekin
$8.00
Discover the Enchanting 'Frida's Legacy' Frida Kahlo Greeting Cards
Explore the captivating 'Frida's Legacy' greeting cards featuring the captivating artwork of Anna Mollekin, a contemporary artist from New Zealand. This digitally hand-drawn beautifully and boldly captures the essence of Frida Kahlo. These cards transcend the ordinary; they are miniature works of art.

Frida Kahlo Greeting Cards Perfect for Every Occasion
Blank Inside: Perfect for conveying gratitude, expressing birthday wishes, showing appreciation to teachers, or sharing heartfelt letters with friends.
Artistry with a Personal Touch
Anna Mollekin shares her inspiration: "To me, Frida Kahlo is truly iconic. I'm drawn to her not only because of her fantastic artwork but for her strength and strong individuality. This digitally hand-drawn Frida Kahlo art portrait is my creative interpretation and tribute to the iconic photograph captured by Nickolas Muray. It pays homage to Frida's appearance on the cover of the renowned Vogue magazine in 1937."⁠
Frida Kahlo Greeting Cards Product Details:
Size: A6 card (folded)
Edition: Open edition (unlimited), digitally named, and signed by Anna Mollekin
Artwork Completion: July 2017
Paper: 350 gsm matte card stock
Envelope: Includes a C6 white envelope
Brighten someone's day with the charming 'Frida's Legacy' Frida Kahlo greeting cards—a delightful blend of artistic beauty and heartfelt sentiment that is both unique and beautiful.
CLICK HERE for more information on Frida Kahlo Greeting Cards delivery times, return policy and shipping policy.
Please note: actual Frida Kahlo Greeting Cards artwork/paper/frame colours may vary slightly in real life from that viewed on your screen due to individual monitor settings etc.

All artwork © Anna Mollekin - these Frida Kahlo Greeting Cards cannot be reproduced or copied without written permission from Anna Mollekin. The purchase of this artwork does not transfer reproduction rights.
SKU: 10000-68-1-1-1-1