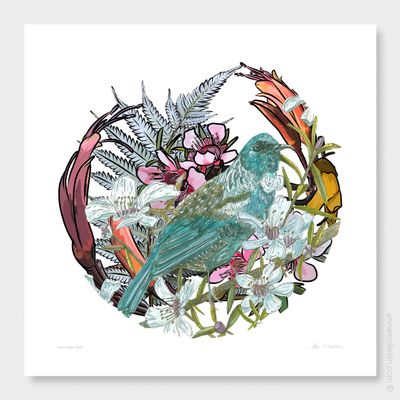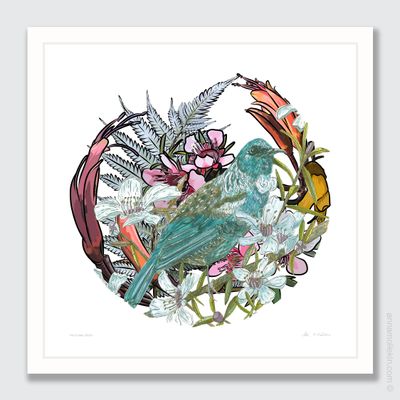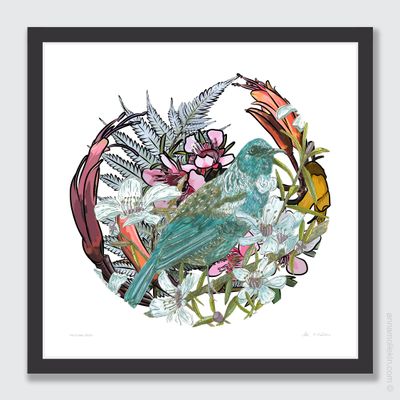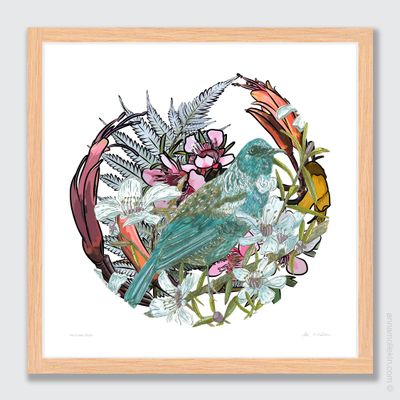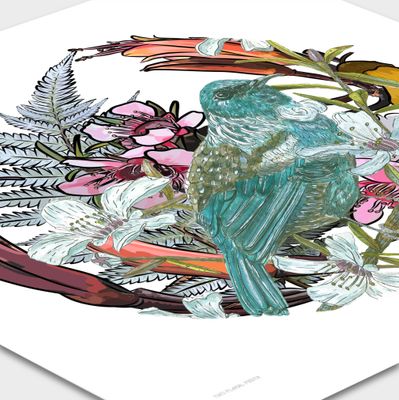 Tui's Floral Fiesta by Anna Mollekin and Lesh Creates | tui wall art
Collaborations
$106.00
Discover 'Tui's Floral Fiesta', a high-quality limited edition tui wall art print created by New Zealand Contemporary Artist Anna Mollekin in collaboration with Wellington's illustrative artist, Lesh McNicholl of Lesh Creates.
Lesh's nature-inspired acrylic and Indian ink illustrations blend contemporary and vintage elements, while Anna's bold lines and hand-drawn digital art celebrate New Zealand's mesmerising flora and fauna.
"Tui's Floral Fiesta" is a captivating mixed-media masterpiece, blending acrylic, Indian ink, and digital art. This artwork showcases New Zealand's native beauty with exquisite Kowhai, Manuka, silver fern, and Harakeke flowers arranged in a mesmerising circular composition, complemented by a graceful perched Tui bird.
Immerse yourself in the inspiration behind our artwork. Lesh's love for nature and her encounters with the enchanting Tui during walks around Miramar Peninsula, Wellington led her to create stunning illustrations featuring the Tui bird paired with her favourite NZ native flower, Manuka. Anna, in turn, found inspiration in Lesh's work, leading her to infuse the Tui and exquisite florals into her own art, creating a captivating collaboration that celebrates the beauty of New Zealand's flora and fauna.
---
DESCRIPTION
Number in edition: 25 Wall Art Prints Only - limited edition. Digitally named and signed by Anna Mollekin and Lesh McNicholl. Comes with a hand-signed Certificate of Authenticity. Please note: This art print is also available on t-shirts, which are independent of this limited edition wall art print.
Tui wall art completed: 16 July 2023
Ink: Epson fine art printer using Epson Ultrachrome K3 archival inks.
Paper: Smooth Cotton Rag - Breathing Colour Signa Smooth, Smooth Cotton Rag 270 gsm
Framing options: Skinny Frame options are available for a super thin contemporary frame moulding for a minimal look. Moulding dimensions: 20mm wide x 20mm high.
Tui wall art care instructions: Avoid direct sunlight to protect your wall art from fading.
CLICK HERE for more information on tui wall art delivery times, framing, sizes, care instructions, return policy and shipping policy.
---
Please note: actual tui wall art artwork/paper/frame colours may vary slightly in real life from that viewed on your screen due to individual monitor settings etc. Frame to picture ratio depicted is based on 420x420mm size and is indicative only. FRAMED prints CANNOT be shipped outside of New Zealand.
---
All artwork © Anna Mollekin and Lesh Creates - this tui wall art cannot be reproduced or copied without written permission from Anna Mollekin and Lesh Creates. The purchase of this artwork does not transfer reproduction rights.

SKU: TFT-297-UF