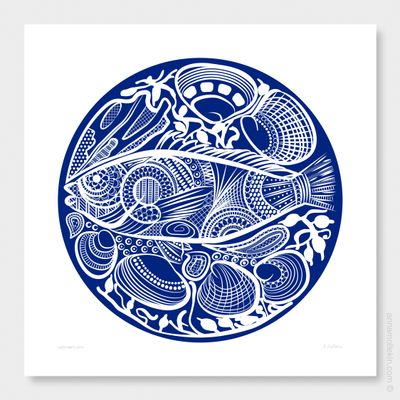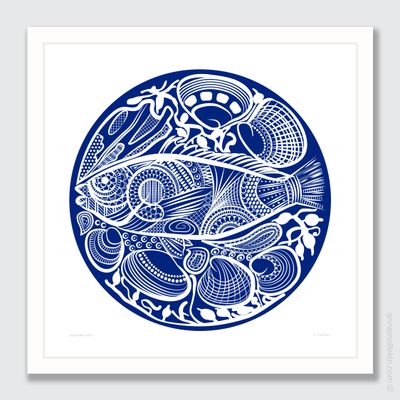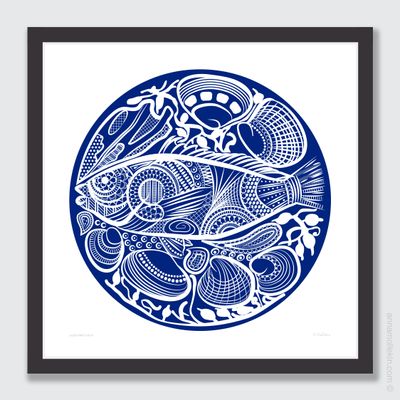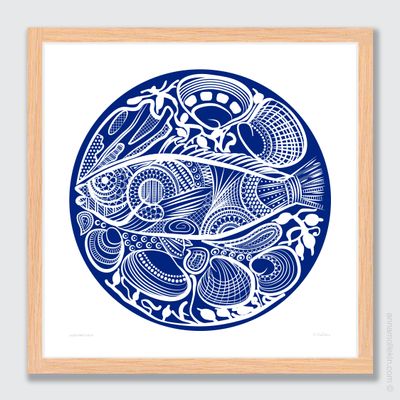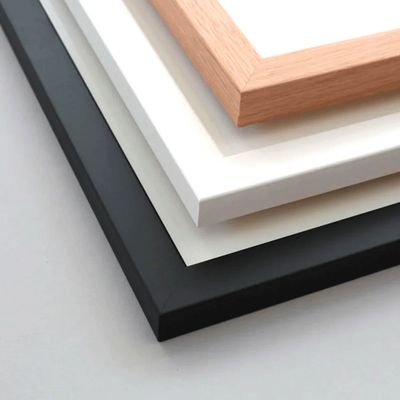 Laced Paketi Catch Wall Art by Anna Mollekin | Fish Art Print
Lace Collection by Anna Mollekin
Sale $49.00 $39.20
Elevate your space with "Laced Paketi Catch," a stunning fish art print by New Zealand contemporary artist Anna Mollekin.
"This piece of art is a true reflection of my love for New Zealand's unique marine life and stunning beaches. It was inspired by a fish my husband caught while I was sketching at the wharf in Port Charles. Through my sea art, I pay tribute to the breathtaking beauty of my home country and raise awareness about preserving these fragile ecosystems. The intricate lace in my artwork symbolises the delicate relationship between marine life and their habitats while being balanced and also providing a food source for humans. For me, creating NZ-themed artwork is a personal passion that allows me to express the essence of my being through my art."
'Laced Paketi Catch' is a digitally hand-drawn artwork dark blue fish art print artwork. This New Zealand contemporary artwork depicts a stylised Paketi, also known as a spotty fish amongst shells and seaweed with ornate lace patterns.
---
DESCRIPTION
Number in edition: open edition (unlimited) and digitally named and signed by Anna Mollekin.
Fish art print completed: March 2023.
Ink: Epson fine art printer using Epson Ultrachrome K3 archival inks.
Paper: 210gsm Smooth, Acid Free, Natural White, Matte Finish art paper.|
Framing options: Skinny Frame options available for a super thin contemporary frame moulding for a minimal look. Moulding dimensions: 20mm wide x 20mm high.
Fish art print care instructions: Avoid direct sunlight to protect your wall art from fading.
CLICK HERE for more information on delivery times, framing, sizes, care instructions, return policy and shipping policy.
---
Please note: actual artwork/paper/frame colours may vary slightly in real life to that viewed on your screen due to individual monitor settings etc. Frame to picture ratio depicted is based on 420x420mm size and is indicative only. Art print has white border. FRAMED prints CANNOT be shipped outside of New Zealand.
---
All artwork © Anna Mollekin - this fish art print artwork cannot be reproduced or copied without written permission from Anna Mollekin. The purchase of this artwork does not transfer reproduction rights.

SKU: 10039-1-1-1-4-1-1-1-1-1-1-1-1-1